The two companies from Treviso support 'Cuore di Marca', a project of the Foundation that cares for children with autism
Susegana (Tv), December 2022 – Visottica Group and the Borgoluce farm are working together to support "Cuore di Marca", a project promoted by "Oltre il Labirinto" Foundation to support people with autism who live in the province of Treviso.
The initiative, which took place a few days ago at the Borgoluce headquarters, saw the involvement of a group of young people supervised by the Foundation in the creation of Christmas hampers for the employees of the two companies located in Susegana.
Under the supervision of a team of educators and psychologists, young people have been engaged in the preparation of over 500 gift boxes, thus experiencing the dynamics of teamwork and the satisfaction of achieving a shared professional goal.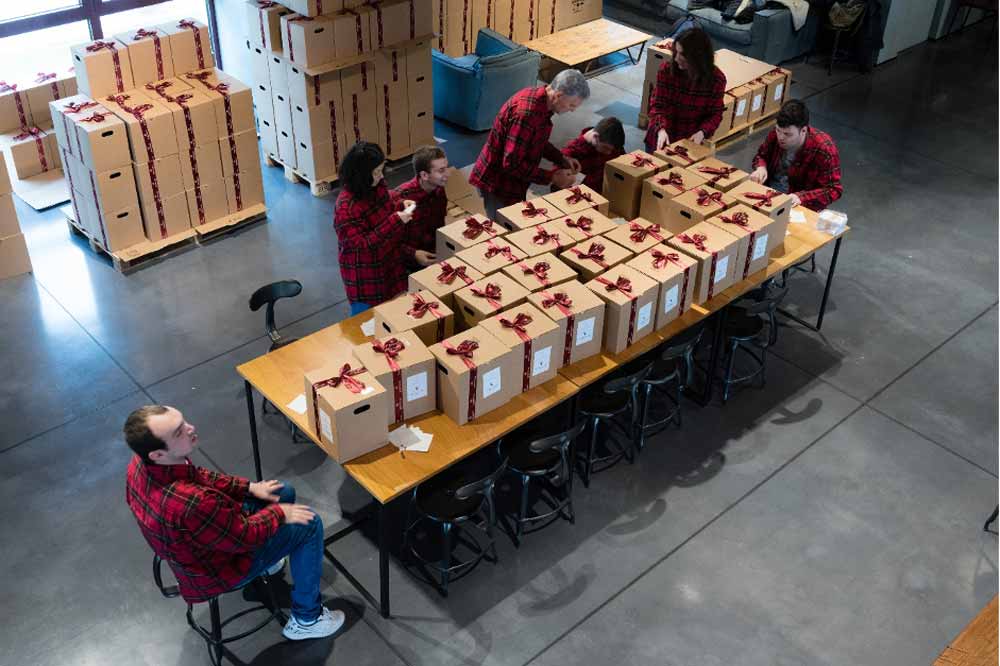 "For people with autism, performing seemingly simple tasks such as creating a gift box is of great importance," emphasises Mario Paganessi, President of 'Oltre il Labirinto'. "This project is very close to my heart. It represents an example of how a specific geographical area – and in particular important companies – look at the most fragile people, who are often on the margins of society, giving them back their dignity through employment. These opportunities allow young people to take part in rehabilitative pathways and provide them with moments of gratification and promotion of spirituality within a community, making everyone feel part of a group, each with their own unique personality".
"Seeing the passion, the commitment, and the skills with which these young people carried out the tasks they had been given, was a touching and extraordinary moment," emphasised Rinaldo Montalban, President of Visottica Group, and Lodovico Giustiniani, Managing Director of Borgoluce. "We consider diversity as one of the founding values of our society, and this project goes exactly in this direction. It allows autistic people to explore their manual skills by filling their time with concrete activities. Supporting a reality like 'Oltre il Labirinto', which operates every day in our territory promoting the importance of inclusiveness, is a duty for us".
Oltre il Labirinto Foundation has been active in Treviso since June 2009. Its mission is to guarantee help, assistance, safeguarding, care, services, and whatever is necessary during the growth phase and the adulthood of people with autism.